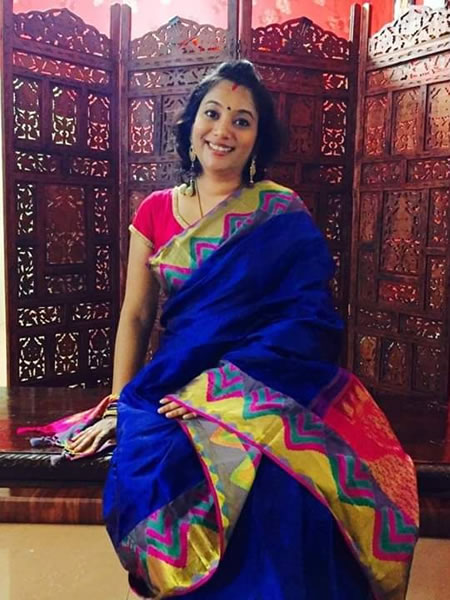 FOUNDER/ OWNER
My passion and love for arts goes a long way back, since I was a young child. I immensely enjoyed drawing and painting and would never miss out on any opportunity to participate in any art related competitions or activities. This was the case for me since my time in primary school all the way up to university. I earned my BSc.in Dietetics from University Putra Malaysia in 2009 but fate dealt me a different card whereby I couldn't practice as a professional dietitian. I was travelling with my husband whose job scope required him to live and work abroad. It is during my travels with my husband that painting became my best companion. My first Facebook page of my work is called Priya's Hobby Lobby shows the things that I've been doing since 2010.
During our stay in the US, I became a member of an art gallery in Houma, Louisiana where I was actively taking part in their competitions and exhibitions. My association with this art gallery acted as a catalyst to improve myself further as I was surrounded by many likeminded artists who helped to encourage and guide me further in this field. My entry called "Moo in Spring" was selected for the 'Embodies the Spirit of Art Award' for Terrebone's Fine Art Guild's 51st Annual Spring Art Show in 2013. The highlight of my stay in Louisiana was when my piece was selected as the winner of the state level competition for the 2014 Inclusive Art contest. I was awarded by the Governor's office and this truly stands out as one of my proudest moments.
Although I started off as a self- taught artist, my drive to further improve my skills led me to Mr. Yeoh Eng Hin. When I moved back to Malaysia I became a student of Mr.Yeoh Eng Hin who is the owner and principal of Art Specialist Centre in Klang, Selangor, Malaysia. I still continue my tutelage under him which has in turn given me further confidence to excel in what I do. Through Mr. Yeoh's guidance, I was privileged to present my work at the 2019 'Chun Hui' Women Painting Exhibition at the KLS Chinese Assembly Hall and also took part in the Mart Expo Exhibition held at Menara Citibank.
Children's education and leaving a lasting mark on the minds of young ones is another pursuit in my life. I've earned my Master's degree in Early Childhood Education (OUM) to enhance my credentials to work with young children. I realized that arts can be a very powerful tool to teach children and create a positive impact in their lives. I started teaching art from my home in 2015 with only 5 kids, using our dining area as our classroom. My growing interest and passion to deliver arts in a fun method kept growing and this led me to Artist Jennnifer Tan's course on art teacher training certificate. During the course I realised that I had all the right foundation and skills to teach children. This built up my confidence to open my own art studio that called 'Play and Paint Art Studio'.
"Only art penetrates the seeming realities of this world," Saul Bellow asserted in his Nobel Prize Acceptance Speech. I see this magic happen each time a child gets transported to a different world whenever they immerse themselves in art. This is why I teach. Children's art is pure joy. Play and Paint is born out of this idea, to make art interesting and playful to children so it generates creativity and the love for the more beautiful, finer facets in life. This is summed up beautifully by Maria Montessori when she said, 'Play is the work of a child' and I absolutely believe in this.
Along the way, I too realized that art should be made available for everyone, everyone should get an opportunity to feel an experience art even for those whom can't draw because art is very therapeutic. I started collaborating with likeminded artist to introduce art classes and workshops for adults.
My heart sings when I paint. It elevates me when I can share this with another; when I see the smile of a person looking at my work or when a proud child shows his 'masterpiece' to his/her parents after class. I truly believe arts is one of the strongest mediums to connect, heal and discover one's self and I would like to keep sharing this with others through my work.